Social protection programs have been growing in number, type, and volume in developing countries over the last decade. The growing evidence points to potential improvements in their design and implementation. 
To watch the talk given by Berk Ozler follow the link: 
http://www.worldbank.org/en/news/video/2015/09/29/dec-policy-research-ta...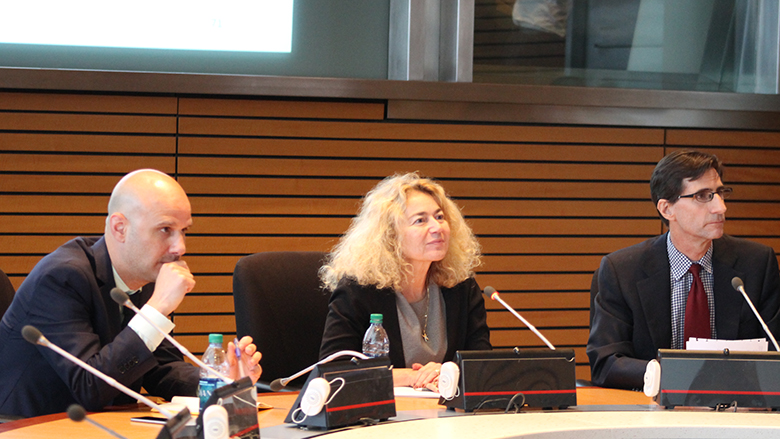 Governments have long funded social protection programs to protect the poor from the worst kinds of deprivation. But the launch of Mexico's Oportunidades conditional cash transfer program more than a decade ago raised the question: can social protection programs break the cycle of poverty and even boost households out of poverty permanently? And what types of programs—from workfare to cash transfer programs to multifaceted graduation approaches—hold the most promise?
In this September's Policy Research Talk, Senior Economist Berk Özler synthesized a growing body of evidence on these questions while drawing out policy implications for the design of cash transfer and other antipoverty programs. The Policy Research Talks are a monthly event held by the research department to foster a dialogue between researchers and their colleagues across the World Bank.
"Over the past decade, these programs have been increasing in both numbers and types," said Research Director Asli Demirguc-Kunt, who hosted the event. "More and more, they're being designed not just to make sure poor people eat, but to allow them to exit from poverty, in a sustainable fashion, over the long run."
Workfare programs—such as Argentina's Jefes de Hogar and the Bihar Rural Employment Guarantee Scheme—were the first target of Özler's scrutiny. While these programs have succeeded in preventing widespread suffering in the face of economic crises or famines, they also come at a high cost. Beneficiaries in workfare programs often undertake backbreaking labor outside the home, sometimes forcing their adolescent children to quit school prematurely. The programs are also administratively expensive, with less than half of the costs going to wages. "It would have been better to give cash," Özler concluded after reviewing the currently available evidence on workfare programs, "unless workfare programs can generate sufficiently valuable public goods benefitting the poor."  
Özler also reviewed a slew of new studies on conditional versus unconditional cash transfer programs, including his own study of a cash transfer experiment for adolescent girls in Malawi. The results of the Malawi program were striking: adolescent schoolgirls who were offered a cash transfer conditional on staying enrolled in school saw substantial gains in rates of enrollment and test scores, as expected. However, those who received an unconditional cash transfer were less likely to marry or become pregnant, both relative to a control group and to those who were offered a conditional cash transfer. Not all schoolgirls who were offered a conditional cash transfer were able to stay in school and comply with the requirements of the program, so they were left to fend for themselves and often turned to marriage when they stopped receiving cash.
The finding points to a broader issue in designing cash transfer programs: the inescapable trade-off between social protection and the aims of the conditions placed on any transfer. According to Özler, "it is hard to justify denying poor households social safety nets because they didn't meet the conditions of the program."
Özler also threw cold water on the notion that cash transfers—at least on current evidence—can by themselves break the cycle of poverty. Two years after the Malawi cash transfer program ended, any measurable differences between schoolgirls who had received cash transfers of any kind and a control group had disappeared. "The desired trends reverse themselves: We open a gap and then it closes very quickly," Özler said. A review of interventions in other countries also pointed to the same conclusion. 
Other innovative antipoverty programs have shown promise. Give Directly, a non-profit which offers one-time cash transfers via mobiles, has been effective in reducing current poverty but its timeline has been too short to identify lasting effects. Also promising is the multi-faceted "graduation approach" that provides capital, skills, and support to poor households for a period of approximately two years. A recent papersuggests lasting effects in Bangladesh four years after the start of BRAC's Targeting the Ultra Poor program.
Özler proposed a few approaches for improving the design of cash transfer programs. For instance, basic unconditional cash grants could be topped up by cash transfers that are conditional on outcomes and are tailored to context and household demographics. He also emphasized the importance of fully understanding market failures in education and health as well as other sectors that result in low human capital investments for children. Özler urged that field experiments be replicated across countries and studied over a longer period of time, both during and after the transfer of cash to recipients.
Discussant Keith Hansen, Vice President of the Education; Health; and Social Protection & Labor Global Practices, commented on the host of received truths in circulation concerning cash transfers, and described a halo effect that such programs have enjoyed. "We must be pragmatic, and loyal to the evidence," he cautioned. Citing the accumulation of multi-year data on the impact of cash transfer programs, he called for the World Bank to continue to conduct research and analyze the evidence, adding, "We are especially well placed to do more work on this."
http://www.worldbank.org/en/news/feature/2015/10/20/should-we-just-give-...